Kalendář
<<
3 / 2019
>>
Po
Út
St
Čt
Pá
So
Ne
1
2
3
4
5
6
7
8
9
10
11
12
13
14
15
16
17
18
19
20
21
22
23
24
25
26
27
28
29
30
31
Zobrazit kalendář
F-DUR JAZZBAND
F-dur Jazzband je třináctičlenná formace špičkových hudebníků ze Zlína, která působí na klubové a festivalové scéně od roku 1994.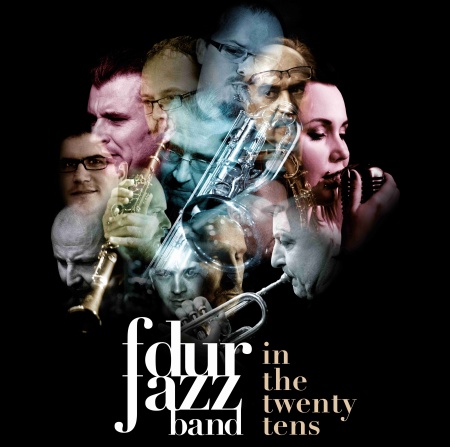 Máme desku! Viz sekci AUDIO.
Kapela staví na výjimečném projevu vokalistů Zuzany Sapárové a Rolanda Hamaje, precizní rytmice a sólistech v dechové sekci. Vystupuje pravidelně nejen v hudebních klubech po celé republice, ale i na festivalech s mezinárodní účastí.
Nejbližší vystoupení
26. 4. Zlín, Hala Euronics (Novesta), Rocksymphony 2019, Marta Jandová, Noid Bárta, host F-dur Jazzband, 18.00
English
F-dur Jazzband (F Major Jazz Band) was founded in September 1994 in Zlín, Czech Republic, out of an enthusiasm for the jazz-rock music of Maynard Fergusson, Herbie Hancock, Joe Zawinul, and other world-class jazzmen. The band has played a number of concerts and festivals at many venues throughout the Czech Republic and abroad. The highlights of the band include contemporary arrangements of standard jazz tunes, tight and precise rhythm section, as well as soloists in the horn section. The members of the band are seasoned instrumentalists, some of them holding chairs in the Bohuslav Martinů Philharmonic Orchestra. Zuzana "Sue" Sapárová, a talented singer from the Otrokovice town, has been performing with the band since the beginning of 2005.
Deutsch
F-dur Jazzband wurde im September 1994 in Zlín gegründet, aus Begeisterung für Jazzrock von Maynard Fergusson, Herbie Hancock, Joe Zawinul und anderen großen Jazzmusikern. In ihrer elfjährigen Existenz nahm die Band an vielen Festivals teil und konzertierte sowohl in ganz Tschechien als auch im Ausland. Die Band aut auf moderner Bearbeitung der Jazzstandards, auf präziser Rhythmik und auf Solisten der Bläsersektion auf. Zu Bandmitgliedern zählen erfahrene Instrumentalisten aus Zlín und Umgebung. Mit der Band tritt auch junge talentierte Sängerin Zuzana Sapárová auf.